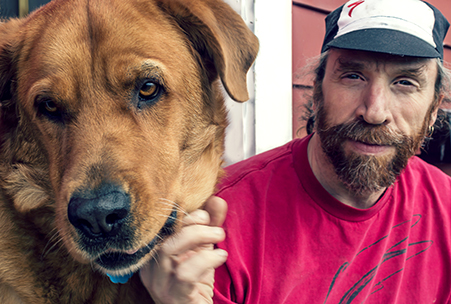 I'm lucky to work in the Vermont countryside not too far from where I grew up. My wife Michele and I live nearby, with our dogs Trey and Maggie. People don't believe me when I tell them my woodshop is in the middle of a cornfield. It's beautiful, peaceful and a great place to be inspired. And Fair Haven is a nice little community with neighbors we've known for years.
I'm a self-taught furniture maker. While I studied and developed my woodworking skills, I wore a lot of other hats – from ski instructor to school bus driver and everything in between. Thanks to downsizing, I got the opportunity to turn my hobby into a profession and ran with it. I now spend my days and some nights in my shop building the furniture you see here on these pages.
I enjoy being a member of the Guild of Vermont Furniture Makers. And if I'm not in the shop, it's likely I'm out on my bike. These days I average 6-7,000 miles a year, if you count the winter indoor trainer. So that's my other passion. Michele and I love to travel to cycling events, which I've covered a bit on the blog.
Anyway, I'm glad you're here. Have a look around, and if you don't see exactly what you are looking for, drop me an e-mail. Together we can create a piece that's perfect for you.
Walt